As much as we'd hope that Ringgit Malaysia (MYR) will be recognised by more global institutions, unfortunately it has yet to reach such globalised status that our peers currently enjoy being Asia's Hub – the likes of Singapore Dollar (SGD) or Hong Kong Dollar (HKD).
Hence it's not surprising to see that most international broker will have presence and acceptance of local transfer in those currencies / country, but not for Ringgit. Of course there's alternatives like international telegraphic transfer (which are super expensive and simply not worth it) or Fintech transfer (via likes of Transferwise or Instarem) which some global institutions will reject third party transfers under others' account name to avoid potential money laundering (tho some are willing to accept if you provide proof of money trail)
As such, it's always good to have an offshore account either to keep your proceeds in a stronger currency, or just to use it as in-transit account under your name. This guide will is part of International Investing series where I covered on how I explored and selected my international brokerage for overseas investing, For now, I'll be focusing more on how Malaysians, in general, can apply for Offshore bank accounts at the comfort of your desk.
Technically speaking, I didn't needed to open another offshore account as I already have my Hong Kong account back in the days when I was still working overseas for a short period. I chose not to close the account when I was repatriated for the convenience that it might bring me in the future (and indeed it was a good decision for me). Ironically I completely forgot about it when I was so fixated on researching the steps to open a Singapore Account
Let's get started!
Why CIMB and not Maybank?
Before I decided to go ahead with CIMB Singapore, I've done some research and compared the two products – Maybank Singapore iSAVvy vs. CIMB Singapore FastSaver. Frankly speaking, both accounts are pretty much the same if you only intend to use it for in-transit account.
Maybank
CIMB Bank

Paper Form

via Malaysia Branches only
Application Process
Fully

Online Form

SGD$1000
Minimum Initial Deposit
SGD$1000
SGD$500
Minimum Balance
SGD$0
$2/month fall-below fees
Fees (min. balance)
$0
$10 -

waived

Fees (inward TT)
$0 -

waived

16
No. of Branches
2
Based on my needs, I didn't need the flexibility of ATM Withdrawal in Singapore at this stage (yet) so CIMB is more than sufficient for me, plus it's convenient, free, and no minimum balance to deal with – hence an obvious choice for me although I'm more active with Maybank than CIMB bank back home in Malaysia.
Another thing to consider (if you are using this as transit account for investment) is if there's any withdrawal from your investments onto this account, check if your brokerage does it via Local-to-Local FAST transfer or via Local Wire Remittance (Telegraphic Transfer), as Maybank charges $10 per inward transaction whereas CIMB waived it (as of now)
Your circumstances may wary so choose one that fits your need best (i.e. if you have access to Premier Banking options like HSBC Premier, etc.).
As a start, you must at least have these with you to smoothen the journey
Malaysia NRIC
CIMB Malaysia account
SGD$1,000 equivalent worth of cash (or RM3,100 to be safe)
Internet Connection and Patience
Opening CIMB Malaysia Account
If you already have CIMB Malaysia account with CIMB Clicks activated (and not dormant like mine), you can skip this entire chapter (or read on, if you plan to save on the annual fees).
If you don't have CIMB Malaysia account yet, I'll briefly walk you through in high-level. Just head to CIMB website and look for Basic Savings Account, which provides an option to have a zero-annual-fees account 1. You just have make sure to keep it active and not let it become dormant, as I've had mine dormant twice had to pay penalties to reactivate the account. If you are planning to withdraw (via ATM) very frequently, then you have to evaluate other options (maybe Account 2 is more suitable for you).
CIMB Malaysia also have an online application process so you can just go through with the flow, but from my memory, you'd still need to visit the branch to collect debit card, activate new PIN via ATM machine, obtain CIMB Clicks MY registration key via ATM machine. I haven't tried applying online in Malaysia yet so I can't speak much from experience.
Opening CIMB Singapore Account
Generally there are five parts in this section:
Application Form Submission (Online) with supporting documents
Initiate Singapore Account Linking via CIMB Clicks Malaysia
Performing e-KYC Local ASEAN Transfer within CIMB Clicks Malaysia (own-to-own account transfer)
Performing initial SGD1,000 account funding to qualify for account approval
Complete your Singapore account with CIMB Clicks Singapore and TAC Security Device
I've documented the detailed step-by-step walk-through below and hope that this will be useful for you!
Application Form Submission (Online)
1. Go through the CIMB SG FastSaver product details and complete the application form. having your proof of IC, residential address, and e-signature ready with you.
2. Upon completing the application, email notification from CIMB SG will be sent to you with a password-protected PDF. Password to open the PDF will be sent to you via SMS.
3. Open the PDF and keep note of the Singapore Bank account number, you will need it later.


Initiate Singapore Account Linking
4. Login to CIMB Clicks Malaysia, find "Services" page (only visible on Desktop) and select "Link Singapore Account" under Account Maintenance section.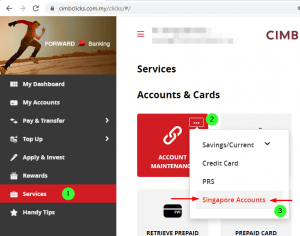 Input the same NRIC number you have in records for both Malaysia and Singapore account. It must be the same.

You might be wondering why is this step important and needs to be done first before everything else? It's simple. As part of MONEY LAUNDERING PREVENTION, and FRAUD PREVENTION, they need to be sure that "you are who you claim to be", and this is done by cross validating your registration in Malaysia vs. Singapore, and subsequently initiating an own-account transfer to Singapore account once linkage is completed. Hence the E-KYC process.
5. Once linked, wait for 1-2 business days for it to get approved.


To check on status, follow the exact steps listed earlier (click Singapore Accounts) and it'll show you the status (pending approval)
If for whatever reason, it shows the input screen again (like the ones you saw in step 4), that means your application has been rejected.
I had the same issue as well – call up the Malaysia Customer Service and explain to them you need to have this account linked, to perform ASEAN Transfer for e-KYC verification requested by Singapore team.
DO NOT ATTEMPT Telegraphic Transfer – not only it's expensive, it is not recognised for e-KYC verification as these are treated as 3rd party transfer (and not first party own-account transfer). I've paid my lessons 😀
Funding Account Opening Deposit
6. While waiting for the approval, you can initiate your SGD$1,000 transfer. Or do it after linkage approval, doesn't really matter.
I would recommend to use Fintech transfers like

TransferWise or InstaRem

to save on international transfer fees.

p/s feel free to use my referral for TransferWise for fee-free transfer up to 500 GBP!
Even with ASEAN transfer (the one that you need for e-KYC with fees waiver), it can't beat rates offered by FinTech (RM3,060.16 vs RM3,094.70)


Performing e-KYC Verification Transfer
7. By now, hopefully your account linkage would've already been approved. If so, simply head to "Transfer Money" (Local Transfer, not Telegraphic Transfer) and transfer at least SGD$1 for e-KYC verification. Personally I transferred SGD$5 via this approach.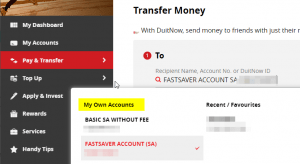 8. It will take approx. 1-2 business days again, for Singapore branch to validate you. This is where they'll ultimately decide whether to approve your account opening application, or reject your application and refund you all the monies. So far I haven't seen anyone getting rejected yet (at least based on Lowyat thread).
Approved Application & Activate TAC
9. If your account opening is successful, you will receive again a welcome email to get you started, alongside with SMS containing your first-time login PIN for CIMB Clicks Singapore
10. Set up your CIMB Clicks Singapore by logging in and change your password.
11. I also recommend to install CIMB Singapore App (Android / iOS). It's terribly outdated, but important unless you plan to visit them to collect your "physical token" for OTP. You need it to initiate Local Transfer within Singapore (i.e. funding your investment account, etc.)
So that's all! I hope this guide was helpful enough to get you started opening an Offshore Singapore Account whatever your reasons may be. I'll expand / update this post in the future if I ever get the chance to also explore the Maybank route, but I don't foresee it happening anytime soon.
See you in my next post! If you haven't already, be sure to follow me on my Instagram, Facebook and YouTube for latest updates!
Cheers,
Gracie
p/s in case if you'd like to support me, feel free to use my TransferWise referral code for free first transfer here!
Special shout-out: If you prefer a video version of the step-by-step guide – check out Ziet Invests' video here!
Frequently Asked Questions
I have decided to also compile some of the most frequently asked questions based on the PM/Comments received so far. Hope this will also be helpful for starters!