I have decided to write down on a monthly basis all my thoughts, feelings, progressions, decisions made throughout my financial journey and anything about life really. Hopefully this will shed some insights for all readers, and even myself when I look back onto the past. If you're interested in my past month updates, take a look at 

Monthly Updates

 and I hope you enjoy reading!
Until COVID-19 situation gets better in Malaysia and/or with 70% of the populations vaccinated, I think my next few months will still mostly be remote working (from home) which helped me to maintain a much more aggressive savings rate – to the point that I'm running out of my monthly intro soon! XD
Starting the year strong with additional achievement awards from the company hence jacking up the savings rate – was actually awarded during early December 2020 but due to delay in processing it was decided to credit under January's payroll instead.
In a way, MCO (or CMCO) forces me to stay at home 99% of the time except for grocery trips – to the point of me skipping meal budget nowadays 🤪Without budgeting for extra eat-out meals – it also means that I'm getting additional contributions into my emergency funds / investments.
Speaking of emergency funds, I'm finally back to my 3 months emergency fund (53% of my 6-months fund target). I must stop deploying my emergency funds into the market… 😑
Out of boredom I decided to come out with this amateur savings jar tracker to monitor my progress towards the 6-months fund target mainly to motivate myself to stay focused! Let's see how long before I get there…
What happened to my Portfolio?
Nothing much unusual for my portfolio this month – except again the BABA crashed back to December Christmas' overnight crashed level (~230USD/share).
So I decided to top up more units and at the same time to exit completely from eToro and move it into my IBKR account. This further increased my BABA holdings from 1.2% to 4.4% of my entire portfolio compared to last month. I should probably start shifting my focus elsewhere as there's also significant BABA exposures through my other indirect holdings (ETFs, EPF i-Invest, PRS).
Speaking of exiting eToro – the whole process of getting my funds back are so cumbersome that I won't really recommend it seriously. I lost at least $19 just for withdrawals alone ($5 for eToro, $4 HSBC inbound TT fees, $10 HSBC outbound TT fees) via my HSBC Multi-currency account.
Only if eToro allowed my to withdraw back into my only source of deposit (BigPay) or my USD TransferWise Borderless account….  *le sighz*….. The only alternative was to deposit into my other MYR accounts with bad exchange rate / still incur inbound TT fees – to avoid the $10 outbound TT fees (since I can do TransferWise subsequently).
On a hindsight, perhaps this would've been avoided if I didn't attempt eToro to begin with 😛 thankfully the fees itself were covered by my $50 sign-up bonuses that I got from eToro (thank you kind stranger, for your referral code! if you want, use my referral code for the same $50 bonus though I don't foresee myself using eToro anymore in the near future.)
The month ended with the whole GME-saga, which I have been watching /r/wallstreetbets since the $10-$20 price point. Didn't really jump in as it's not something I'm comfortable with – though I was close to jumping in when they decided to do one-sided trade restrictions (even for long cash stock purchases).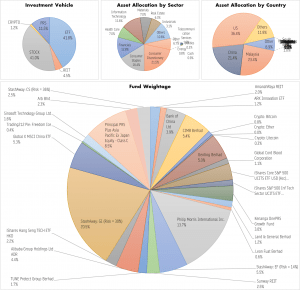 No realised gain/loss for the month as well since there wasn't any closed positions.
Snapshot as at 31 January 2021
Note: For definition of snapshots, please check My Portfolio where I elaborated it in details.
Sold (Retired) Portfolio (accumulative)
IRR: 2.15%
ROI: 4.08%
Profit/Loss: RM1,293.46
Active (Invested) Portfolio
IRR: 9.56%
ROI: 11.20%
Profit/Loss: RM18,685.21
True Cost: RM134,966.05
Total Value: RM152,383.50
Entrance Value: RM123,285.22
Portfolio Value: RM142,015.16
Nett Dividend (2021): –

If you're interested in my past month updates, take a look at Monthly Updates
As always, thanks for reading and I will see you again in my next post! If you haven't already, be sure to follow me on my Instagram, Facebook and YouTube for latest updates!
Cheers,
Gracie