I have decided to write down on a monthly basis all my thoughts, feelings, progressions, decisions made throughout my financial journey and anything about life really. Hopefully this will shed some insights for all readers, and even myself when I look back onto the past. If you're interested in my past month updates, take a look at 

Monthly Updates

 and I hope you enjoy reading!
Since my last post, I have spent most of my free time in myself – trying to figure out what's really bothering me from the inside and what could be done to minimize the pain. Perhaps it was the job, which at one point was something that I am passionate about and faded away over time. Or perhaps it was the shifting work culture plus the COVID situation which has been draining us out.
Work or Passion?
I don't know enough yet if these are the true reasons behind it – but one thing that is very clear to me now is that the job that I once had excitements for is fading away, bit by bit. At one point, no matter how many extra hours that I have to put in, I was tired, overworked, but felt the joy and excitement of seeing through ideas from seedling to life, with a strong sense of ownership/achievement.
But now, the reasons for working seemed to be just for that monthly paycheck that feeds me well, contributes to my financial freedom plan, and that's about it. It felt that the passion is gone and I'm just clocking my soul away for that pay. These thoughts will then spiral into a few rounds of vicious cycles, like:
Why am I even complaining? It's lucky to still keep a job without a pay cut/termination in such COVID-19 situation! Stop complaining!
Do you think the grass is really greener on the other side / overseas? It's the same everywhere, just hang in there.
Passions? Do you even know what you want to do yet? Does it pay your bills? No? Then stick with your job! At least it funds your financial freedom plan…
Then start saving more and stop spending! Or invest more time in side gigs/freelancing so that you can retire earlier…
Why am I here being depressed than doing something else that brings me value/money/learnings!?!?!?
Basically, it feels like I'm going into rounds and rounds of finding fault with myself lol. 😆 After a while, I realized that going rounds and rounds of self-blaming will not help my situation any better so I decided to find ways and distract myself indeed.
Distracting Myself with Hobbies
What has really helped me through the month, after the hectic work burn-outs, is really to explore and trying out some new hobbies that I have always been curious about but never had the courage to take the first step.
The Piano (Keyboard)
The first one is to try playing the piano (keyboard). I've always had interests in musical rhythm games since the old days in O2Jam @ PC or Hatsune Miku: Project DIVA @ PSP or some 2D dancing games that I forgot the name. And I can type pretty fast too! Definitely not the best but proud enough 😛 (max WPM @ 157).
Thankfully my sister had her old piano (keyboard) left in my home, unused for years, and I decided to "put it into good experiment". Whilst the learning is rough for a complete beginner relying only on YouTube videos, it was really fun as my mind goes completely blank without useless thoughts when I play the piano. It just feels amazing as if I went into another head-space, completely zoning out. Maybe I'll post about it in the future when I feel more confident playing it~
Learning the Korean Language
Another (probably weird) interest was to pick up another new language skill. I've watched plenty of dramas, animes, or movies in my life – and for certain languages, it just intrigues me if I can pick up how to speak/understand/read the language. That's probably how I picked up my basic Cantonese purely from TVB Dramas back then, with zero formal education.
Over time, I have watched more and more Korean dramas and sometimes (rarely nowadays) even their movies or comedy shows. For whatever reason, it just ticks and I've always felt the urge to learn it, but never really the effort to.
So I took the opportunity this round to start learning Korean, from YouTube videos for now 😝. While it did not give the same "zoning-out headspace effect" as the piano does for me, it still helps to shift my thoughts focus onto just learning the Korean language. I don't know where I can get, but hopefully something usable for basic conversational / drama binge in the next few years.
COVID-19 Vaccination
I still remember waking up close to noon to some news article on 2 May where the AstraZeneca vaccine was made open for Malaysians who are willing to opt-in and register as volunteers. At that point, whilst I already have the general knowledge about how vaccination works, the only thing that came to my mind was the blood clot cases from AZ highlighted by several mainstream media locally or internationally.
Perhaps it was due to this fear as well, the take-up rate was slower and I had sufficient time (~30 minutes to 45 minutes) to do my own due diligence online, check with my doctor (after all I have a slightly higher risk of blood clot than most other average person due to my long-term medications). And after some researches, it was an easy decision to look at the number of adverse events, percentage-wise, to then immediately sign up for both myself and my mom (otherwise don't know how long more we need to wait, especially for myself…)
Thankfully the vaccination injection process went very smoothly and the staff there were all very efficient and professional too. Had some severe side effects on the first night after the jab, with up to 41c high fever, but things normalized pretty quickly afterwards. I even tracked my side effects throughout the first 3 days  😝
The most ironic part? My mom who also took the jab same time as me only had injection site pain for her side effects. Unlike mine 😅

Hopefully, the Malaysia Government can ramp up the capacity to deploy vaccinations to all of us to achieve herd immunity sooner and return to our pre-COVID lifestyle. If you have not registered for vaccination, make sure you do so via our official government website https://www.vaksincovid.gov.my/  or MySejahtera app.
For those on the fence to get vaccination – like investments, read and understand how the vaccine works and don't get swayed just by mainstream media's reporting since most of them love to sensationalize news article to gain clicks rate. Understand the numbers behind, the fundamentals (science), etc – just like when we do our own research for investments. Here's some good video on how vaccination works: video 1, video 2.
During these difficult times, I hope everyone is coping well, especially with the Full-MCO lockdown recently enforced in Malaysia. Somehow this section became longer than I intended to, but I'll leave it here to be true to myself and also my readers out there!
Now, going back to our usual monthly update for my finances and portfolios.
With my long-arse opening intro, you can probably imagine my self-control to spend this month is also loosened considering the state I am in XD
While it does not reflect much on the Savings Rate since I'm using the zero-budget system with plenty of sinking fund categories. But from a month-to-month budget perspective, there's at least an overbudget of 10+% into non-essential spending resulting in a lowered pool for savings/investments.
Some of the purchases are items related to my two new hobbies exploration such as a keyboard rack, chair, or some Korean textbooks to help with my learning. There was also some spending that went into my home maintenance/repairs such as a new cabinet for my living room (running out of space to keep some dry kitchen foods/wares) or clothes hanger (running out of hangers! on hindsight I should've probably donated clothes to free up my hangers :P)
But the biggest item was for my personal care IPL home-kit since I cannot visit the beauty salon as frequent anymore due to COVID-19 (plus my packages are finishing soon and it's too expensive for my budget to renew!). If the IPL home-kit works well I can easily save by spending only a fraction of the cost typically charged by the salon *hopeful*
Still, with all these, I am thankful that with the little bump in temporary spending, I was still able to hold myself back from going beyond my paycheck (thanks to the self-taxation) similar to what happened back in 2019. At least it's reassuring to me that my investments or emergency savings are mostly on autopilot mode now…
From next month onwards, I'll be revising my Emergency Jar's target from a 6-months expense into a 12-months expense as part of my buffering strategy since I'm almost at the mark of hitting the 6-months expense jar target. Not to forget also that this pool of emergency fund will be deployed for either myself individually or my mom who is solely dependent on me.
What happened to my Portfolio?
Aside from my typical monthly investments of Dollar-Cost Averaging (DCA) into StashAway, PRS, Luno and Trading212, there are few activities that took place in May.
Speculative "Plays"
If you noticed from my April's Update, I included one of the "Speculative Plays" in my portfolio, which unfortunately did not turn out well and I stuck with my initial plan to cut loss at -15% and thankfully I did. Otherwise, I'll be looking at -65% capital loss instead 😛
It was an interesting experience for me since these speculative wasn't typically my style, I've redirected portions of this fund pool into another speculative play (which I'm ready to lose it all) so let's see where it takes me.
EPF Withdrawals
After a series of hesitation, I have decided to tap into my i-Sinar EPF Withdrawal but purely rerouting it to my personal portfolio. So far I have withdrawn approx. ~RM20K but yet to fully deployed the funds – anyway withdrawal payment is staggered across 6 months so I still have some time.
Depending on personal circumstances, this decision may not be fitting with everyone but just to share some of the perspectives in my case. For me, the drive was mainly twofold:
Further diversification out from Malaysia:

While EPF's performance has been consistent for the past decades, I would still like to maintain a fine balance of reducing Malaysia's exposure to international markets. ~RM20K at this juncture will only be ~10% of my personal freedom portfolio hence it'll likely not shift the needle too much (in terms of asset allocation), but every bit counts. Most of these would be diverted into passive ETF's and at this juncture, I'm planning to split it into China ETF & All World ETF.


I wanted greater control of my money:

This could be a bit ironic for some. Whilst I loved the fact that EPF has significant risk-management already built-in (with significant exposures to money market fund) allowing me to use it as my foundational layer for the totality of my portfolio to cushion risks. Still, there's not much I can wiggle around with EPF funds until unless when I hit RM1mil for my EPF portfolio, above 65 years old, or when I finally make the move out of Malaysia for good.
Investments & Dividends
Made a few purchases both locally and internationally – using either my previous months' savings buffer or my EPF withdrawal for the ETF. These are namely Corsair Gaming, Ho Hup Construction, Henan Jinma Energy, and also topping up to my 3040.HK Global X MSCI China ETF fund.
No dividends were received in the month of May, although there were a few ex-dates already in May. Looking forward to my June's dividends 😍
p/s thanks to the top-up of 1-month emergency fund into my portfolio back in April and also injections from EPF, my total portfolio size have finally crossed the RM200k mark!!! 🙌
Snapshot as of 31 May 2021
Note: For the definition of snapshots, please check My Portfolio where I elaborated it in details.
Sold (Retired) Portfolio (accumulative)
IRR: 4.41%
ROI: 7.70%
Profit/Loss: RM2,940.14
Active (Invested) Portfolio
IRR: 12.80%
ROI: 14.91%
Profit/Loss: RM29,868.33
True Cost: RM181,705.78
Total Value: RM211,757.62
Entrance Value: RM167,532.61
Portfolio Value: RM200,334.52
Nett Dividend (2021): RM799.59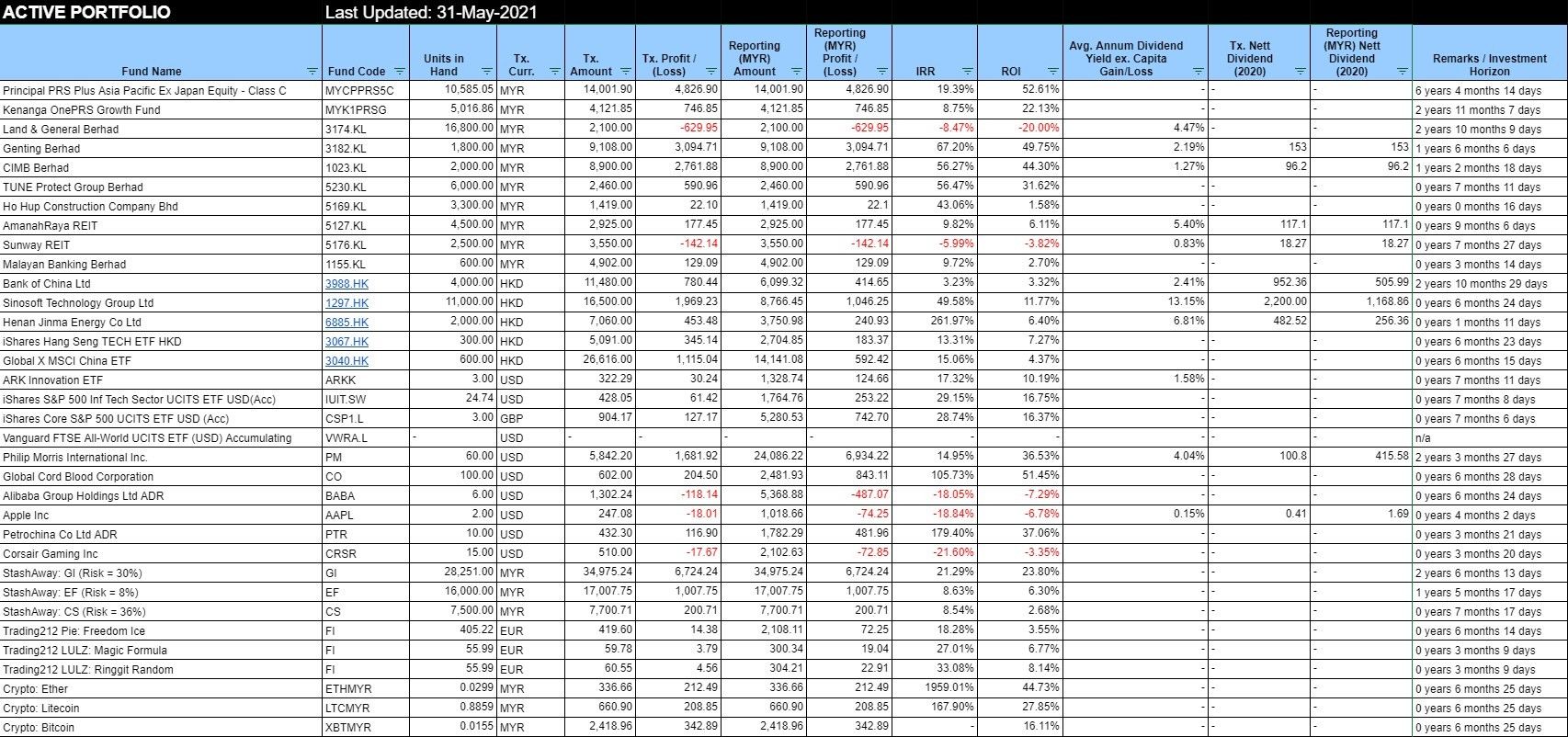 If you're interested in my past updates – do check out my previous Monthly Review or Year In Review!
As always, thanks for reading and I will see you again in my next post! If you haven't already, be sure to follow me on my Instagram, Facebook and YouTube for latest updates!
Cheers,
Gracie